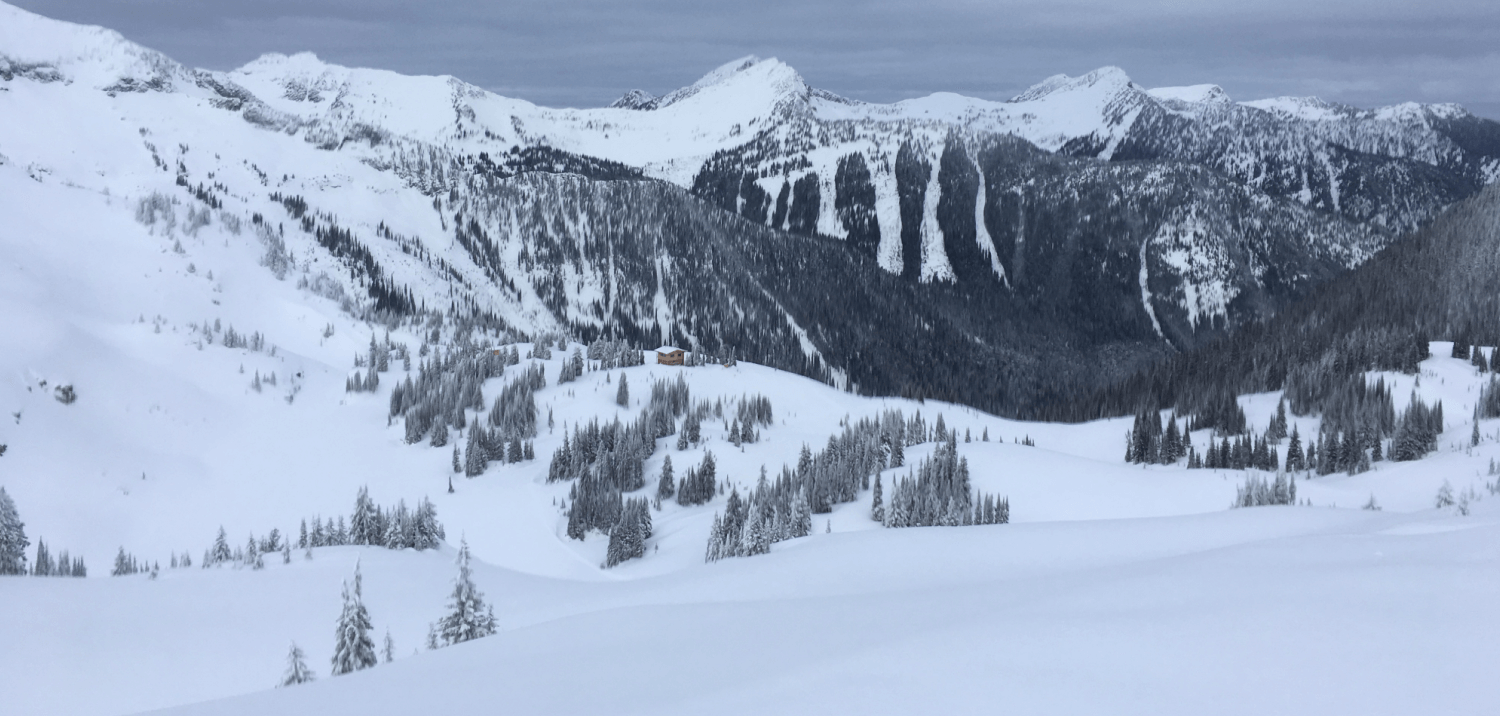 LQ Outpost – Lequereux Mountain
The Outpost, opened in 2017, is the latest addition to the network of backcountry lodges in the Valkyrs. It is situated at 2,200 meters on the north flank of Lequereux Mountain in the easternmost sector of the Valkyr Adventures terrain. The ski terrain found there includes alpine runs off of Lequereux as well as long, steep big tree runs on all aspects of the mountain. The skiing is incredible and the views are jaw dropping spectacular!
Unlike the other Valkyr lodges there are no modern conveniences or Valkyr staff at the Outpost. We designed it for the hard-core DIY ski touring crowd! Groups members are responsible for all cleaning and cabin maintenance during their trip and must be familiar with operating wood stoves, propane appliances and tanks and gas generators. The wood heated cabin is a one room affair comfortable for groups of 8, with the kitchen/dining area being partitioned off from the sleeping area. A separate sauna hut supplies the requisite 'apres ski' heat therapy!
Attention
The Outpost is best suited for ski guides with their private groups or other self-guided groups who have extensive backcountry ski experience and current avalanche safety training. It is also available for summer hiking trips.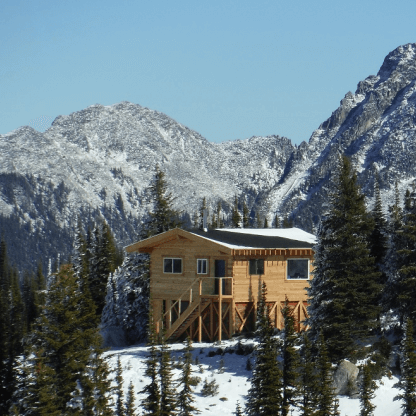 Epic riding in some of the most pristine wilderness that BC backcountry has to offer will keep you coming back for more!
Lodge Based Ski Touring Self-Guided / Private Groups
Ski Guides / Experienced Self-Guided
1. The 24' x24' wood heated cabin is a one room affair comfortable for groups of 8, with the kitchen/dining area partitioned off from the sleeping area. There are 4 single beds and 4 double beds bunk style to accommodate singles and couples. Large windows give the cabin a spacious feel. There's a hand crafted table with benches for meals and games.
2. There is no indoor plumbing and guests must haul water from the nearby lake and visit the awesome 2 stall biffy to do the do.
3. There are drying racks and wire shelves around the wood stove for drying your gear. Ski storage beneath the cabin.
4. The kitchen is outfitted with a propane cook stove with oven, a propane fridge and lots of food prep and storage areas.
5. Electricity is provided by a solar panel and a generator for charging batteries. There is no cell service or internet available at the Outpost and all communication is via the Valkyr radio / repeater system to staff at the other lodges or Valkyr base.
6. Helicopter transportation to and from the Outpost (Sunday exchange)
7. LQ Outpost capacity – 8
————————————————————————
2018 rates: $8,000 Per Week plus CAD + Tax
2019 rates: $8,500 Per Week plus CAD + Tax
What's Provided:
Propane
Gasoline and firewood
6 lb. chopping maul
Tools to maintain equipment
Ice auger
Water containers
Toboggan for hauling water
Shovels for moving snow
Snowshoes for packing trails
Base radio programmed to Valkyr channels
Pots, pans, dishes, cups, utensils
6" covered foam mattresses and pillows
What you need to Bring:
All food and drink
Dish soap, bleach, dish scrubbers, paper towels, tea towels
Towels, soap, toilet paper and hand sanitizer
Sleeping bag and a pillowcase
1st aid supplies and rescue equipment
VHF hand held radios programmed to Valkyr channels and or family band radios for local use
Summer Hiking Groups
Please contact us for Availability and Rates