Valkyr Adventures Winter Vacation Options
---
Cold Smoke~Women's Series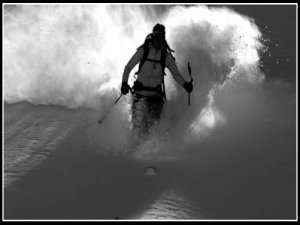 BACKCOUNTRY SKI IMPROVEMENT WEEK AT NAUMULTEN LODGE JANUARY 28 , 2012 – Feb 4, 2013
Do you want to feel more confident skiing in the backcountry?
Do you enjoy learning in a safe and positive environment?
Do you like to know where the best snow is to be found and how to get there safely?
Do you tend to rely on other members of your party to make decisions while ski touring?
This program provides women with the chance to delve into ski touring in a fun and supportive environment. What better time to immerse yourself in a week of powder skiing, ski skills improvement and avalanche awareness?
If you have been looking for the right moment to take that next step to gain the knowledge and experience necessary to build confidence and independence in the backcountry, this is the right program for you.
Course instructor will be Emily Grady – Emily is a professional ski instructor in alpine & telemark techniques and is an ACMG assistant ski guide. The course will also include video analysis including individual feedback and tips to improve your skiing.
Cost: $2,100 each plus tax.
This includes instruction, guiding services, lodge accommodation, catering and helicopter shuttle to and from our staging area.
---
Anytime Winter Vacation Extras: (Rates provided on request)
Helicopter drop to remote runs and peaks in southern range, traverse back to lodge
Instructional weeks – backcountry ski techniques, avalanche courses and Accreditation
Preorder your choice of beer on tap
Massage Therapist for the week
---
Snowshoeing Trips
The terrain at the Naumulten Lodge is perfect for snowshoeing! If you don't ski but still want to accompany your friends or family on a ski trip come and snowshoe around the lodge. We have mountain grade snowshoes that will fit any size of mukluk or snowpack boot. You can do short strolls by yourself or our hutkeeper can accompany you on longer excursions. If you are a member of a snowshoeing club contact us for details on shoulder season specials.
---
Group Organizer Discounts
We Offer Discounts to:
Hiking clubs
Ski groups
Large families
Teams
Professional groups
Any Groups of 12 who book together for a trip to Hilda Hut or Valkyr Lodge qualify for the discount.
The group organizer is responsible for all matters concerning trip logistics such as: waivers, finances, contact information of all participants, etc.
Please contact us for more details.
---
Waivers
All activities take place in uncontrolled mountain terrain. Appropriate gear is required. Activities or routes are subject to change due to extreme weather. All participants will be required to sign a release of liability, waiver of claims, and assumption of risks and indemnity agreement prior to undertaking any activity.