Hilda Hut – Mount Hilda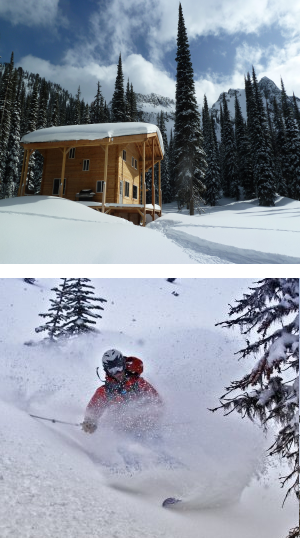 HILDA HUT is nestled in the big spruce forests beneath Mount Hilda, in the heart of the Valkyrs.
The Hut is a spacious 3 stories and can accommodate 12 guests in 6 private rooms, with an additional overflow bedroom, plus staff bedrooms.
Standard features include AC power, limited internet access, and indoor plumbing including shower and flush toilets, plus a separate sauna hut with a shower room and change room.
THE SKIING AT HILDA
Surrounded by 4 peaks over 8,000 ft Hilda Hut offers access to terrain in the Valkyr Range covering Mount Hilda, Mt. Prough and Mt. McBride. There are numerous big mountain runs in the home basin but don't stop there- there are 9 unique ski zones accessible from Hilda Hut covering over 4,000 hectares of ski terrain. From steep and challenging alpine drops to treed runs through old growth forests experienced backcountry skiers will be thrilled and challenged by the Hilda terrain.
Contact us for more information and availability.
See Packages Here