Valkyr Lodge – Naumulten Mountain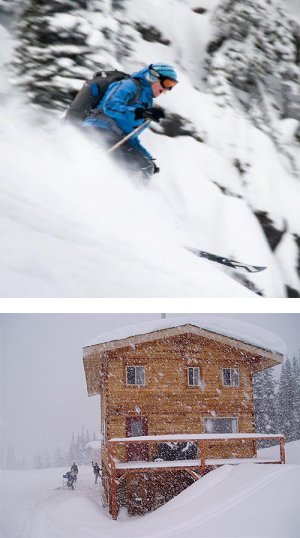 VALKYR LODGE on Naumulten Mountain is the Original lodge built in 2005 by the Glasheen Family. It has withstood the test of time and has received high praise for the comforts and quality accommodation. It features a micro-hydro power system with A/C current, indoor plumbing with hot and cold running water, toilets and hot showers in both the lodge and sauna hut. There's a fully outfitted kitchen, a large dining table, a games table, a drying room for boots and gear, and a ski room that's out of the weather. The lodge has limited wireless Internet access.
The lodge can accommodate groups of 12 in six separate guest bedrooms. Five of the guest rooms have a double bed / twin bunk combination capable of sleeping couples or two singles. One room has a twin bunk only, suitable for two singles. All beds are outfitted with quality bedding including down duvets! We also have a staff bedroom in the lodge and a separate apartment for the guides. For relaxing your tired muscles at the end of the day check out The Sauna Hut. It features a changing room, sauna room and bathroom complete with toilet and shower with hot running water!
The Skiing at Valkyr Lodge – Naumulten Mountain
Valkyr Lodge, set in the north end of the range, provides access to over 4,000 hectares of ski terrain!  You have 8 unique ski zones to choose from on Naumulten Mountain, Mount Rollins and Mt. McBride.  The ski zones encompass whole drainages of these 3 mountains and offer a wide selection of terrain to choose from. The variety of aspect, incline and length of run found here can accommodate all ski touring agendas.
On the north and east aspects are big alpine bowls, steep couloirs and exciting treed skiing that the Selkirk's are renowned for. On the south and west facing slopes are mellower inclines with an endless variety of open treed glades.The ridges and folds of the mountain make for interchangeable and interesting runs. Most tours end with a ski down Naumulten's west face to the lodge. Timed right, it can be just as the sun is setting over the Monashees and an ethereal alpenglow bathes the basin.
Epic riding in some of the most pristine wilderness that BC backcountry has to offer will keep you coming back for more.
Packages | Winter Gallery | Summer Gallery | Lodge Gallery