Summer in the Valkyrs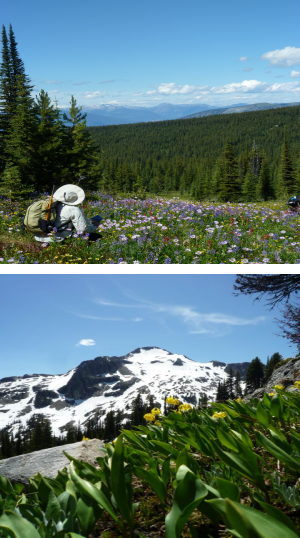 Experience the wild and pristine beauty of the Valkyr Range.
This mountain range in southern British Columbia is vast and largely unexplored. Most of our summer trips are based out of VALKYR LODGE located at 2,210 m in an alpine basin on the western slopes of Naumulten Mountain.  You can choose from 3 – 7 day packages, guided or self-guided.
Go Guided for the best hiking experience!
There are no marked trails here and our guides are experienced in our terrain. They will custom design the hikes to get the best routes for finding wildflowers in bloom,access wildlife viewing points and helping you achieve your peak experience.
No technical climbing experience or equipment is necessary.
There is also a self-guided option for those who are experienced in mountain travel.
There is no road access to the lodge so your hiking holiday begins at our staging area off of Hwy.6 just south of Burton, BC. We will transport you to the trailhead where we shoulder our packs and put our boots to the trail.
The hike to either lodge generally takes 2-3 hours.
The hike into Valkyr Lodge is through open alpine country.
The day hike options include easy rambling in alpine meadows that tour past alpine streams, tarns and stunning flower displays; moderate tours along broad ridges to the top of Mt. Rollins or more ambitious tours to the Viking zone. Expansive vistas of surrounding mountain ranges abound.
For summer photos of the terrain at Valkyr Lodge please have a look at our summer photo gallery.
The hiking options at Hilda Hut are for more serious mountaineers.  We offer a 5 – 7 day Valkyr Traverse package that includes overnight stays at all three lodges ridge line tours along the Valkyr Range between the lodges.   Please contact us for details.
To experience the hiking options at Mount Hilda without the traverse we have a 3 – 5 day option.  The hike from the trail head to Hilda Hut is through old growth cedar forests and beside rushing mountain streams.  This part alone is worth the trip! Once at the lodge, day hikes involve a bit of scrambling to reach the alpine meadows. The terrain is steep and rocky but the rewards are great! Objectives include summiting one or more of the 4 surrounding peaks over 8,000 ft (2,500 m – 2,650 m), touring through vast alpine meadows or just having lunch beside a sparkling tarn. A canoe is available to enhance your experience!
For photos of the terrain at Hilda Hut please go to our photo gallery on our Hilda Hut page.
For packages and hiking options please see our Summer packages page.